Saturday, March 17, 2007
ANNOUNCEMENT
We have been blessed with our beautiful daughter, little sister to big brother Matthew, JOANNE. She came to us on 27 February 2007 at 1022hrs. She weighed 3.295kg, measured 49cm in lenght, with a head circumference of 36cm.
With the new addition to our family, we have moved on to a new blog address:
Our Little Angels
Tuesday, February 27, 2007
D-Day
Today's D-Day. I'm going for C-section at 10am. After that, it's no more Mike, Sandy and Matthew, it'll be Mike, Sandy, Matthew and Joanne. As of last Wednesday, Joanne is estimated to be 3.4kg with 33cm head circumference. Like Matthew, Jo is too big to "fit" into my narrow pelvic area. So we decided to go for C-section. Since we had to choose a date, we decided that it must be after Matthew's birthday. Matthew was borned on 250205, so we thought why don't we simply change the 5 to 7 and bravo - 270207.

We have been talking to Matthew about his little sister. We went shopping with Matthew for him to choose a present for Jojo (his nick for Joanne) and to choose a present for Jojo to give him. Since that shopping trip, he has been very much involved in our preparation. He even wanted Jojo to come out quickly, so that he can have his present! He helped Mike to push Jojo's baby cot into our room and was so excited about it.

Good Luck to me, Mike and Matthew with our new addition. See ya in 10 hours, Joanne!
Matthew's school
We did it. We registered Matthew for Pre-Nursery classes at Calvary Pandan Kindergarten at Pandan Gardens today.

We brought Matthew along and he said he likes the school. Of course, there was a play area with his favourite slide and swing. As I was talking to the Principal, I wasn't paying attention to what he was doing. According to Mike, Matthew went through the play tunnels, climbed the steps to the slide and up the swing all on his own. AND he wasn't afraid when some of the kids came to gather around him (maybe that was because Papa was around). Then when Mrs Low the Principal approached him to talk to him, he did not cry. He responded to her and answered her questions on mei mei. He even let her hold his hand when he wanted to touch the piano.

That's a good start, but probably because Papa and Mama were around. Got to call Mrs Low in August and see if there's vacancy for him in Term 4. I intend to staty him in Term 4, so that he can settle in more easily without all the kids crying around him next year.
Monday, February 26, 2007
Wonderful Birthday!
We were out playing the WHOLE day on Sunday to celebrate Matthew's 2nd birthday! 9am to 9pm! Lots of fun! We went to Matthew's favourite playground - SENTOSA, then to our favourite Japanese restaurant for dinner. I'll let the photos do the talking.
** First stop - Imbiah Lookout
>> Matthew's birthday cake no. 1
>> A family portrait
>> Matthew enjoying the cake. He "went" for the cake, as soon as we gave him his fork and refused to "feed" us till he had enough.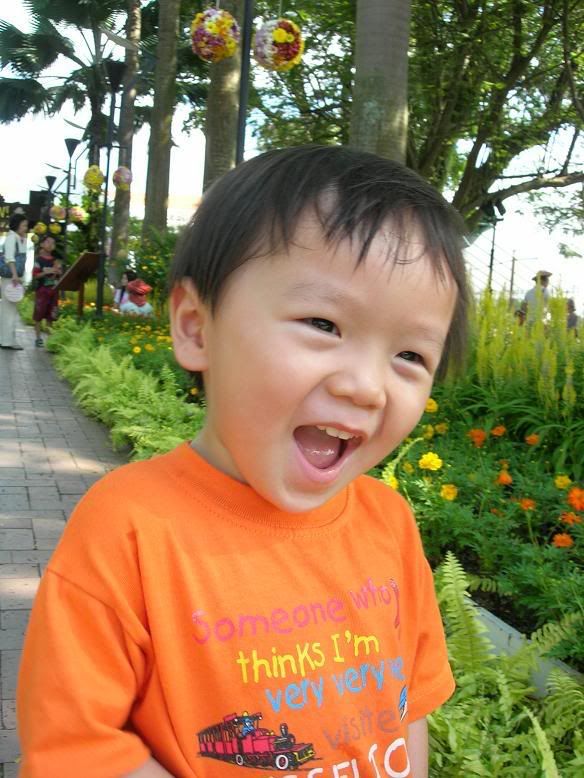 >> Matthew having fun at the Sentosa Flower Fest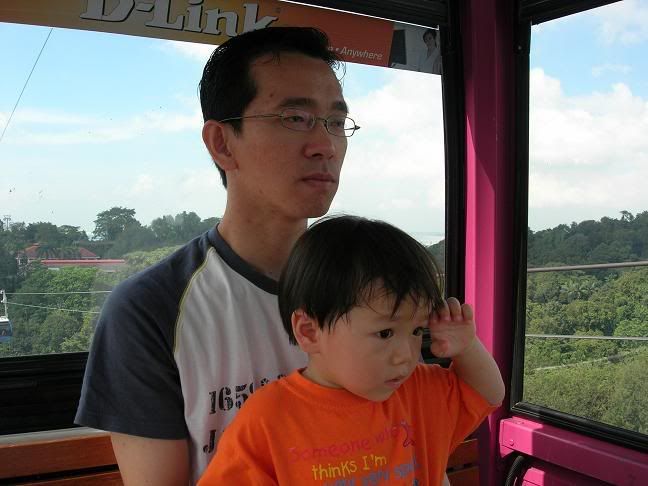 >> Not forgetting Matthew's fav ride - CABLE CAR!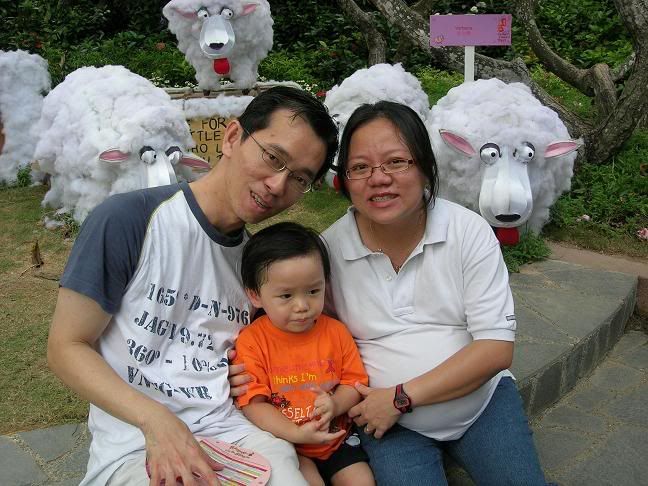 >> Ba Ba Black Sheep at the Sentosa Flower Fest
** Second stop - VivoCity
>> We took the Sentosa Express to VivoCity and had lunch at Food Republic. Matthew fed himself kway teow-noodles
>> So tired...
Then it was back to Sentosa to pick up our car and we made our way to Little India. We usually park our car at Little India station, gate A and take the train. It's free parking on Sundays and Public Holidays!
** Third stop - Clarke Quay
We had dinner at our favourite Japanese restaurant - Waraku. Matthew had rice with chawanmushi, udon from my Nabeyaki and soba from Mike's Tonkatsu Wazen.
>> Matthew drinking water from a big beer glass
After dinner, we had some time to roam around the riverside and Matthew spotted his favourite MITA building with colourful windows.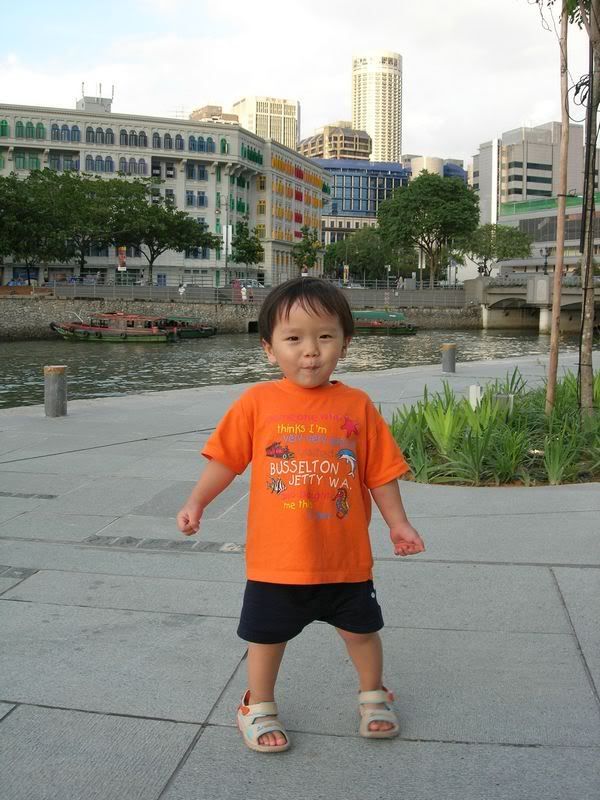 >> Riverside Walk
** Final stop - Por Por's house
We made a last minute decision to pick up the second cake from home to celebrate at my mom's place. When we picked up the cake on Saturday and Matthew saw the cake for the first time, he went, "WOW!"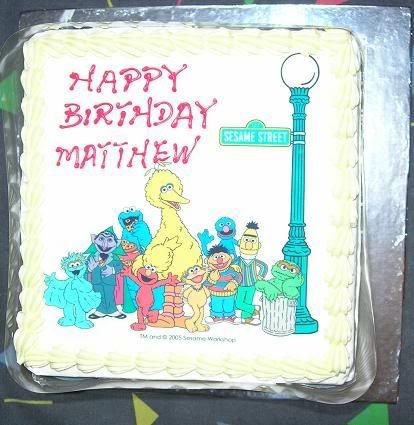 >> Matthew's birthday cake no. 2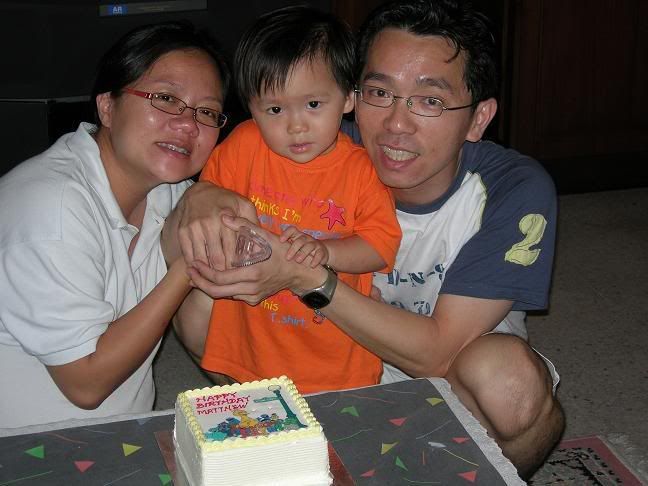 >> Another family portrait - we got to hold back Matthew from cutting the cake just to take this photo
Matthew was so tired that he was out in 10 minutes. But that was not before he held Mike's finger and gave a blow, saying "Matthew blow candle" in Mandarin. He sure had lots lots of fun!
Labels: M's birthday
Sunday, February 25, 2007
Flower of February - Violet, Primrose
Birthstone of Februray - Amethyst, Bloodstone, Onyx, Moonstone
Colours of February - Light Blue, Yellow, Purple
Famous people borned on 25th February
1971 Sean Astin (actor)
1943 George Harrison (former Beatle, singer)
Interesting birthday notes from
BirthdayCelebrations.Net
.
Labels: M's birthday
Wednesday, February 21, 2007
Chinese New Year 2007
This is Matthew's 2nd CNY. As Mike's father and relatives are holidaying in China, we had less visiting to do. The first day was the same as before - Por Por's place, followed by a stopover at Ah Ma's place in Yishun, then to AMK at Mike's grandparents' place, back to Por Por's place for dinner and the last stop at Tiong Bahru to visit one of my eldery relatives.
>> Ah Ma's place in Yishun, 18/2/07
Now that Matthew is older, he had more fun playing with the older kids and enjoyed the attention showered on him. He says "xie xie" when he gets an angbow and "gong xi gong xi, xin nian kuai le" and offers two kums (mandarin oranges).
On the second day, we stayed at home, as Mike did some housework (and I did nothing...) and after Matthew's nap, we went to Sentosa. We brought Matthew on the new Sentosa Express (FOC since we are Islander members) and headed straight to Siloso Beach for dinner at Sakae Sushi.
After dinner, it was some fun at the beach. We had always thought that Matthew did not like sand. We were wrong. He played with the sand and had fun trampling on the sand turtle that Mike had built for him. Got to bring him back there for more fun. With his sensitive skin, we were not surprised with the hives on his hands... got to be careful abt the sand play.. heee..
>> Matthew looking at sunset
>> Matthew having fun trampling on the sand turtle
>> My two favourite boys having fun with sand
We spent the third day of CNY at my mom's place. On the way, we went to my godmother's place. Matthew had 3 packs of gummi bear gum-sweets and wanted more. We went to Por Por's place with my ganma, jiu jiu, jiu ma and cousins and had lunch there. Matthew amused everybody as he differentiated the ah-yis by where they stayed, like my cousin is Jurong East de ah yi, my sis is Faber Drive de ah yi. Then my little cousin is Xiao xiao ah yi, somehow he figured that cousin was the youngest.
After lunch, he had fun playing ball and mixing around before Mike carried him and patted him to sleep with his favourite stories.
Till next CNY, with a new member - Joanne. :)
Labels: CNY
Tuesday, February 20, 2007
Something in the formula?
Incidentally, we stopped giving Matthew Enfagrow A+ on Saturday (18/2/07). We went for a late breakfast at MacDonald's that day. Did not give him his usual shot of milk; instead he shared a hot milo with me. After his afternoon nap, he also did not have his milk. His skin was clear for the rest of the day. At night, we gave him warm fresh milk with a teaspoon of milo.

Similarly on Sunday, we gave him warm fresh milk with milo for breakfast and supper. No hives, except due to his perspiration.

Today was the third day. We were quite upbeat about the findings. No formula milk, only fresh milk. 3 cups and his skin had been relatively clear. Matthew's skin is actually quite sensitive and we have to keep his skin relatively clean. After his lunch, I forgot to wipe his legs (he fed himself and had food on his legs), hives appeared. His little adventure on the sand at Siloso Beach just now also left him with hives on his hands.

Mike and I decided to continue with fresh milk for another few days, before we re-introduce 1 feed of formula milk a day. Reason being formula milk has lots of nutrients, minerals, vitamins and DHA, ARA etc "artificially" added. Maybe it's really something in the Enfagrow formula that's causing the problem. I'm quite reluctant to change the formula as it is the only one in the market that is not vanilla flavoured.
ENT review
Matthew had his ENT review at NUH last Thursday (15/2/07). I was quite hesitant about this review because he was supposed to do a play audio test in an enclosed soundproof room. We were quite surprised - Matthew walked in without hesitation when the audiologist invited him into the room. The room was decorated with kids in mind. There were kid-sized table and chairs from Ikea, playthings, colourful carpets.
Matthew sat down at the table with the audiologist facing him. The audiologist told him to put the pin next to his ear, as if some sound was coming out of it and to place it in the holes of a playboard when he heard a "tu" sound. He passed this test with flying colours.
We couldn't proceed with the next test that required headphones to be used. He simply refused to have the headphones placed. This test would be able to test how much he could hear with his left ear, the different frequencies etc. The next review would be 9 months later. Hopefully, by then he would let the audiologist place the headphones on his head.
The ENT centre had an allergy clinic, so Dr Lynne Lin (Matthew's ENT specialist) recommended that Matthew take the skin prick test when she saw the hives on his legs. The nurse at the clinic explained to us that the only type of test she could do was to test for contact allergens, such as dust mites. The tests were not really conclusive, as Matthew's skin reacted to the negative control. The nurse suggested we keep a food diary, noting down everything that he eats and the time of his skin reaction (i.e. appearance of hives). The most common food allergies were milk, wheat, eggs and soya. We shall see how things go first before we try to carry out a food-elimination-diet, as it is so difficult to restrict the diet of a growing child.
Here's an article from askdrsears.com >>
TRACKING DOWN FOOD ALLERGIES
Saturday, February 17, 2007
Fun in the Kitchen